New: Paul Design Gentlemen 4+6 Black watch winder
Posted on 18 May 2022 at 8:27 AM
An automatic watch will stop when you are not wearing it. To prevent this, most watch enthusiasts use a watch winder. This device mimics wrist movement so that the automatic watches placed in it maintain their energy level. This allows you to wear your favorite watch immediately, without having to reset the time, date or other settings. Useful!
Paul Design is a brand of which we have been an official dealer for over 10 years. This brand produces high-quality watch winders that are suitable for every brand and type of automatic watch. Whether you wear a Breitling, Rolex or Tag Heuer, a Paul Design watch winder will wind your automatic watch professionally and safely. The advantages of a model of this brand are countless. The quality is excellent because Paul Design uses beautiful and solid materials. In addition, a lot of attention is paid to the production, so that a watch winder from this brand is durable and solid in terms of technology. But let's not forget the excellent functionality. The Paul Design watch winders are easy to set up so that they can wind any type of automatic watch. You can therefore also wind up different automatic watches with different settings in this watch accessory. The last advantage is the attractive price. Compared to competing brands, Paul Design offers a very attractive price for the same or even better quality.
Recently Paul Design presented a new model: the Paul Design Gentlemen 4+6 Black. This watch winder is suitable for winding 4 automatic watches and offers space for 6 other watches. Of course you can also choose to store jewelry in this watch accessory. This makes this watch winder the ultimate accessory for automatic watches and jewelry, and you can store all your valuable accessories in one place. This is easy and convenient, especially when you're short on time but still want to wear your favorite watch.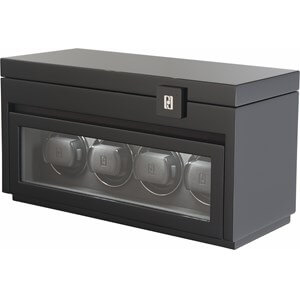 The Paul Design Gentlemen 4+6 Black is made of wood and has a black lacquer on the outside. The inside is provided with soft fabric. The lid can be opened with a key, giving you access to the extra storage space for 6 other watches and the touchscreen to set the watch winder completely to your liking. At the front is a glass door that gives you access to the watch holders on which you place the watches. A sleek design and a striking lock at the front have been chosen. With this lock you can lock the lid so that others cannot access the other 6 watches or jewelry.
This new watch winder from Paul Design is a beautiful accessory for automatic watches. With a very nice finish, lock, LED lighting and flexible watch holders, this is a very complete model that you can enjoy for years. You can set each rotor individually to the requirements of the automatic watch by means of the touchscreen. You can also switch the LED lighting on or off via the touchscreen. With the LED lighting on you create a beautiful spectacle of rotating watches in perfect light. This is a beautiful sight, especially in the dark.
A nice extra that this watch winder offers is the remote control. With this you can also set the watch winder, for example, from your chair. This is not only convenient but also very functional. Not many other brands offer this extra, which makes this an absolute advantage over other comparable models.
The Paul Design Gentlemen 4+6 Black watch winder is also available in the black apricot and black shadow version. These models have a pattern in the outer lacquer layer as a special effect. If you prefer a sleek black model, the Gentlemen 4+6 Black is an excellent choice. The color black combines well in almost any interior and has a neutral appearance.
As an official dealer of Paul Design, we already have this new model in stock and available immediately. We ship completely free of charge within the Netherlands and have attractive rates for shipping within and outside the EU. We ship with Fedex, PostNL and DPD.
Every Paul Design watch winder comes with a 2-year warranty, manual and adapter. Of course, each model is well packed so that it arrives in 100% condition at the desired location.
Are you looking for a good watch winder that should also be affordable? Then take a look at this new Paul Design Gentlemen 4+6 Black model. We think that this new model could become the best-selling model in 2022, given the many advantages that this watch winder offers.
Would you rather buy a watch winder for 2 watches? Or a watch winder for 3 watches? Check out our website for the many models that we can supply from stock.