Orbita Sparta Bold 1 watch winders
Posted on 12 May 2022 at 11:05 AM
As a lover of automatic watches, are you already familiar with the watch winder brand Orbita? If not, it is certainly interesting for you to read on! Do you already know the brand? Even then, this article offers useful information when you are looking for a new watch winder. Orbita is an American brand that produces with the well-known high-quality Swiss engines. A watch winder with a Swiss motor guarantees durability, reliability and solidity. That is exactly what you want when you are looking for a watch winder to provide your beloved watch with energy. With a reliable model, your automatic watch is always immediately ready for use and you don't have to worry about having to reset it, for example. Orbita is a high-end brand for several reasons. Not only does the brand opt for the best of the best in the field of engines, this brand also goes for extremely high-quality materials and an exclusive appearance.
Orbita offers a wide audience with its collection of watch winders. Both the enthusiast with one or a few watches and the real collector with a whole collection of automatic watches can go to this brand. Orbita also offers diversity in terms of appearance and price. There are very luxurious models available, with an extremely chic look. These Orbita watch winders offer beautiful wooden cabinets, made of wood from Italy. However, there are also the more simple but certainly effective designs from Orbita, which are therefore also more competitively priced. This way you can choose what best suits you and your budget. Orbita is a frontrunner when it comes to technology and movement. For example, the brand has managed to put various patents to its name in this area. For example, Orbita has developed the so-called 'Rotorwind System' itself. This system is special because it takes care of the energy needs of automatic watches by gently shaking the watch. However, the brand also offers the more calibrated mode of arousal within the collection, which regulates the arousal through rotation.
Due to the modern technology that Orbita uses in combination with the flexible watch cushions, you can wind any automatic watch with these watch winders. This regardless of the brand or type of watch. Orbita also offers extra small watch cushions, for when you own very small watches. Because these cushions are made of a type of foam, your watches are optimally protected when placed in the watch winder. The logo printed in the cushions emphasizes the luxurious feeling this brand gives you.
If we look at Orbita watch winders that are suitable for winding one automatic watch and are also accessible for an interesting budget, then we arrive at the Orbita Sparta Bold 1 models. Let's start with the Orbita Sparta Bold 1 Black W05521 as an example. This watch accessory is made of aluminum and has a handy size. Because the watch winder works on batteries, it is also possible to place it in a safe for optimal safety. It is also a good option to take it with you to the office or on a trip. The Orbita Sparta Bold 1 Black W05521 is of course equipped with a Swiss made motor. This watch accessory offers the programs CW, CC and Alt and an overwind protection and takes care of the winding of your watch with the Rotorwind System.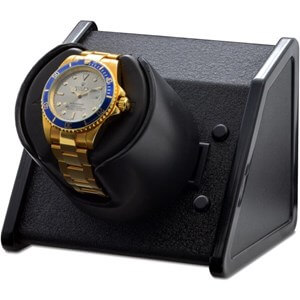 The Orbita Sparta Bold 1 Blue W05525 is also suitable for winding one automatic watch. This model is available in the color blue and also available in various other colors such as red, green, white and brown. This model is also made of aluminum and therefore lightweight. Of course, the basis of this watch winder is formed by a Swiss motor, which ensures that every automatic watch can be supplied with the necessary energy. Just like the previous model, this watch winder has the CW, CC and Alt programs and an overwind protection. This model winds your watch using the Rotorwind System.
The aforementioned 2 models of Orbita are of course available with us in the webshop. Both models may have a simple design, which makes them affordable. In addition, they provide the necessary arousal extremely effectively and safely. The compact design makes them easy to place and move, which is an additional advantage. With an Orbita Sparta watch winder, you choose a watch accessory with a good price/quality ratio. After all, Orbita belongs to the cream of the crop in the field of high-quality watch winders and with this series of watch accessories offers the opportunity to purchase them at an attractive price.
When you order an Orbita watch winder from us, you will receive it with a 2-year warranty in sturdy packaging. We ship our watch winders worldwide with PostNL, DPD and Fedex. We also offer various options for payment. You can pay for your order with us by credit card, Ideal, Paypal or regular bank transfer.