Paul Design Gentlemen 12 Macassar watch winder
Posted on 7 May 2022 at 3:21 PM
Due to the many brands and models, it can be quite difficult to purchase a good watch winder. Which brand should you choose and which brand should you ignore. Of course there is a great diversity of brands and the corresponding difference in quality. When we look at price ranges, we also see that there are many differences. In addition, there is also a lot of difference in the winding capacity. For example, watch winders are available for those who own one automatic watch, but also larger models suitable for winding an entire collection of automatic watches. The range also differs per brand in terms of functionality. Some brands simply offer more options and user comfort than others. Then there's the design. There is no arguing about taste, watch winders are available in different styles. For example, you can choose from classic, modern, traditional, artistic and compact designs. For example, there is a suitable watch winder available for every lover of automatic watches. Whatever type of watch winder suits you or your watches best, a good price/quality ratio appeals to everyone.
The traditional brand Paul Design, originating from the United Kingdom, is a brand that is highly regarded in this field. With the establishment of this brand, Paul Design was able to offer exactly what was needed at the time. Where, for example, Swiss and German brands were able to offer top quality at higher prices, the watch winders from the Asian market were cheaper but often disappointing in quality. Paul Design wanted to offer excellent quality but at a more inviting price. This is still what this brand is known for more than 10 years after its foundation.
The Paul Design watch winders offer a golden combination of high-quality materials, a luxurious appearance, high-quality technology and competitive prices. The brand uses motors of the brand Mabuchi for its watch winders. These engines come from Japan and are very solid and reliable. They are also very strong, so that they can provide any automatic watch with the necessary energy without any problems. Paul Design further distinguishes itself from other brands by offering a very complete picture. Various watch winders from this innovative brand have built-in LED lighting, extra storage space and, for example, a modern fingerprint lock. Paul Design also chooses to select the materials for the watch winders itself, instead of buying ready-made parts. This ensures that control over quality is entirely in their own hands, so that they can always guarantee it.
A watch winder from the Paul Design collection, which is an excellent choice for the true collector, is the Paul Design Gentlemen 12 Macassar. As the name suggests, this watch winder is suitable for winding up to 12 watches. This watch winder is made of wood, with its own look. The watch winder is made in the color Macassar, as far as the exterior is concerned. The inside of the watch winder is completely black in color and is inlaid with a soft fabric. This for optimal protection of your watches. The glass door allows you to view your watches well, even during the winding process. However, because the watch winder is lockable, you also ensure that your watches are protected against moisture and dust, for example.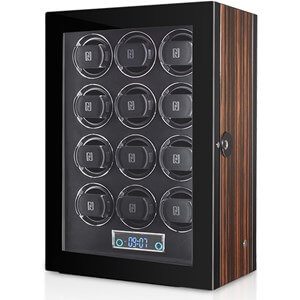 Of course, the Paul Design Gentlemen 12 Macassar is also equipped with the Japanese engines from Mabuchi. Because these hardly produce any noise during the winding process, you will not be bothered by disturbing noises. You can therefore place this watch winder in your bedroom or workplace without any worries. The watch winder can be operated by using the advanced touchscreen. This screen ensures that you can change the settings of the watch winder very easily and quickly. For example, you can change the direction of rotation and the number of rotations per day for each watch separately. It is also possible to switch on the built-in LED lighting, for a fantastic view of your watches. This model also offers a modern fingerprint lock to keep unwanted hands away from your watches. Finally, the Paul Design Gentlemen 12 Macassar watch winder offers the programs CW, CC and Alt and of course an overwind protection. With this model from Paul Design you choose a classic stylish watch winder of top quality, at an attractive price. In this way you can be sure that you are choosing the best for your automatic watches. When these are not worn, they get an optimal way of winding in the watch winder and you do not have to worry about your watches standing still.
You can order various watch winders from Paul Design easily and quickly from us in the webshop. Moreover, with the clear photos you get a very good idea of ??what the watch winders look like in real life. Every Paul Design watch winder comes with a 2-year warranty and a manual. You can get started right away!
Watchwinders.com is official dealer of Paul Design. We have almost all models in stock and available immediately. If we do not have a model in stock, we will have it in stock within a few weeks, so that we can still guarantee a fast delivery.
Do you leave your automatic watches stationary? Or would you rather choose a good quality watch winder that ensures that your automatic watches are always provided with sufficient energy, so that they are immediately ready to wear.