Benson Black Series 8.16.B watch winder for automatic watches
Posted on 30 April 2022 at 8:05 AM
Within the watch industry there is a wide range of watch winders available. This indispensable watch accessory has been further developed and thus become more modern and functional. But there is also more and more variation available in terms of style. There are many renowned brands that produce watch winders that have beautiful designs and are real eye-catchers. The purchase of such a watch winder often requires a larger budget. Yet there are also quality brands that manage to reach a wider audience by combining high quality with an inviting price. The Dutch brand Benson is one of them. Benson knows how to keep the prices of the watch winders interesting by having the watch winders manufactured in-house. This also keeps the lines short in terms of quality and control. So it's time to get to know this promising brand better!
The Benson collection is divided into different series. The Benson Black Series is the most luxurious of these. The watch winders from this series are equipped with Japanese motors. These motors make the watch winders affordable, but also have various properties that contribute to the comfort of use of the watch winders. These motors of Japanese origin are of course very durable, so you can always count on your watch winder. In addition, they are also energy-efficient to use. Finally, the motors operate virtually in silence. This makes it possible to place the watch winders in places where silence is desired or even necessary. For example, think of the bedroom or the office. Because the design of the Benson Black Series watch winders is also compact, they are handy and easy to place and move. Benson only uses the best materials for their watch winders. Characteristic of the watch winders from Benson are the perfect finish and the eye for detail that is clearly apparent in the different series of watch winders.
The Benson Black Series watch winders are handmade by experts in this field. This results in watch winders that are fully equipped, are recognizable by a piece of technical finesse and provide the owner with pleasure for a long time. The Benson Black Series are also suitable for winding any brand, type or size of automatic watches. Do you have an Omega, Breitling or Rolex watch? Winding in a Benson watch winder is no problem at all.
We like to take the Benson Black Series 8.16.B watch winder as an example. This model is made of wood and provided with no less than 12 layers of paint and a protective layer of lacquer. This watch winder is available in black, but also available in other beautiful colors such as blue, red, white and macassar look. This watch winder is suitable for winding up to 8 automatic watches and therefore extremely suitable for the real collector. In addition, this model also offers storage space for 6 extra watches. This storage space can be closed at the top of the watch winder with the special soft close lid. The space where the watches can be wound can also be closed with the glass door. This includes protection of your watches against, for example, moisture and dust. But your watches are also optimally protected against damage. The watch winder is inlaid on the inside with a special soft velvet.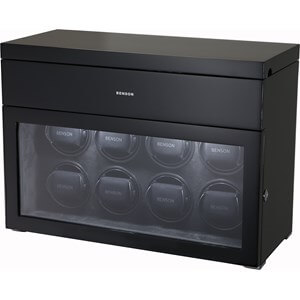 The Benson Black Series 8.16.B watch winder is equipped with an innovative touchscreen. This makes it possible to adjust the rotors one by one for optimal winding for each watch separately. The handy built-in LED lighting can also be operated with this touchscreen. With the LED lighting switched on, you have a fantastic view of your watches, even during the winding process or in the dark. With access to the programs CW, CC and Alt, an overwind protection and a speed winding function, this watch winder is very complete. With the last option it is possible to wind your watches in a short time. Handy if you don't have much time available. The energy supply of this watch winder runs through the use of an adapter. Finally, the watch winder is equipped with a USB connection. All in all, the Benson Black Series 8.16.B is a perfect watch winder for the collector with a preference for a watch winder with class.
In addition to the watch winders from the Black Series from Benson, we offer the entire other collection of this unique watch winder brand. There is a choice of watch winders with Japanese or Swiss motors. In addition, watch winders are also available for 1 or 2 automatic watches. There are also many possibilities in terms of material use. The Benson collection offers, among other things, watch winders made of wood, but also, for example, of leather. As a result, there is always a Benson watch winder that suits you and your watches well.
One thing is certain, with a Benson watch winder you always opt for value for money. Order your Benson watch winder easily and quickly from us in the webshop. Almost all Benson watch winders are available from stock and delivered quickly to your home!