Swiss Kubik Startbox watch winder Bronze edition
Posted on 20 April 2022 at 3:36 PM
A watch winder is an essential part of the hobby of a lover of automatic watches. Without a watch winder it is not possible to provide your automatic watches with energy, unless you have it on your wrist. If a watch is not wound by the natural movement of the wrist, it can come to a standstill. This can have unpleasant consequences. For example, it is possible that the watch becomes less accurate with regard to the display of the time. Moreover, it is annoying when you regularly have to reset your watch. With the purchase of a quality watch winder you can overcome this problem. You also immediately have a safe storage place for your watch.
You know the saying "cheap can be expensive". This also applies in certain cases when purchasing a watch winder. So it is important to look at quality and choose a brand that is well known. Yet it is not the case that you always have to pay a high price when you want to buy a high-quality watch winder. There are several brands that are widely known for their good price/quality ratio. In addition, there are very well-known brands that also offer watch winders within their collection that are seen as an entry-level model. This way you can purchase a durable watch winder that winds your automatic watches in a safe way and that is affordable at the same time. This also applies to certain Swiss brands. Watch winders of Swiss origin are very well known, just like the watches themselves. An example of a renowned brand in this area is Swiss Kubik.
Swiss Kubik offers enthusiasts with a smaller budget the opportunity to choose a high-quality watch winder with a simple design, at an inviting price. We take a closer look at the Swiss Kubik Startbox series. With a watch winder from this series, you choose exactly what your watch needs, namely effective winding. Today we focus on the Swiss Kubik Startbox Bronze, which comes from this series. This specific watch winder is made in the color bronze. However, the same model is also available in many other colors such as blue, orange, red and black. This watch winder is made of polyamide. The model is clearly recognizable as a design by Swiss Kubik, due to the cube-shaped design. The watch winder is compact in size and also light in weight. In addition, this watch winder can function for up to 3 years on a set of AA batteries. This not only makes this watch winder durable and energy efficient, but also ensures that it is easy to install. You don't need a lot of space for this. Moreover, you can also place this watch winder in a safe, or take it to the office or on a trip.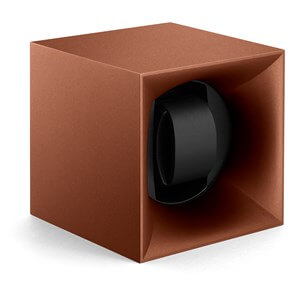 The Swiss Kubik Startbox Bronze watch winder is of course equipped with a Swiss made motor, Swiss Kubik is known for this. These motors are very powerful and reliable. They are also very quiet during the winding process. As a result, you can also place this watch winder in your bedroom or at your workplace without any worries. The combination of these features of the watch winder ensures that you are very flexible with this model. The Swiss Kubik watch winders can also be expanded with an adapter or smaller watch holders. The latter is ideal if you have a smaller model watch. Of course, this model watch winder from Swiss Kubik is also equipped with an overwind protection. In short, the Swiss Kubik Startbox Bronze offers everything to ensure that your watch can be efficiently supplied with the required energy. In addition, the movement of the watch winder also ensures a correct oil distribution in the watch, to preserve your watch. Of course you can also safely store your watch in this watch winder. If you want to go for extra security, you can easily store your watch winder and watch in a safe.
The Swiss Kubik watch winders are of such high quality that they come with a 3-year warranty. With this, Swiss Kubik offers a longer warranty period than most brands. They can do this because they choose the best of the best in the production of the watch winders. In addition, they choose high-quality materials for their products. In combination with the Swiss made technology of the watch winders, the confidence in their own products is therefore very high. We supply an extensive collection of Swiss Kubik watch winders. In our webshop you can choose from a brand watch winder with a various capacity. For example, we not only offer watch winders such as the Swiss Kubik Startbox Bronze, which is suitable for a single watch, but also watch winders from Swiss Kubik especially suitable for the real collector.
Watchwinders.com is the official dealer of Swiss Kubik. This way we guarantee you quality, service and a competitive price. We supply most watch winders from stock. If you have a question or comment, please let us know. We are happy to help you.