Orbita Avanti watch winders from the US
Posted on 28 June 2021 at 4:19 PM
There are many brands and models available in the field of quality watch winders. As a result, it is sometimes possible that you can no longer know what to choose. Which high-end watch winder for your watches from IWC, Panerai, Omega, Breitling and Tag Heuer is the best buy? After all, you do not want to wind your precious watches in a poor quality watch winder, which does your watches more harm than good. Our advice is therefore to always buy a good watch winder that winds your watches safely and professionally.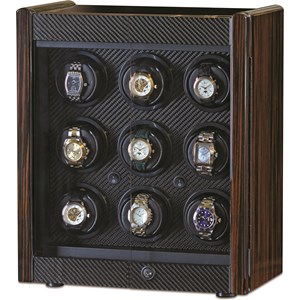 There are a number of specific brands that have certainly earned their spurs in this area and are therefore certainly a good option when you are considering purchasing a high-end watch winder. An example of a brand that is known worldwide for its excellent winding technology is the American brand Orbita. In this blog article we take a closer look at Orbita's more luxurious models, namely the Orbita Avanti watch winders.
The Orbita collection can be described as a true paradise for the true collector of automatic watches. Because although Switzerland in particular is known as the watch country pur sang, this brand from the United States is an absolute wellknown name in the field of watch winders!
Orbita is one of the oldest watch winder brands and, moreover, not only a brand that stands for luxury and quality, the brand can also be called very innovative and progressive. Orbita has several patents in its name. For example, Orbita is known for their patented Rotorwind System. This advanced system takes care of the winding of automatic watches by gently shaking the watch, where the more calibrated winding system (dubbed by Orbita as the Programmable System) provides the energy through rotation. In its extensive collection, Orbita offers various alternatives for the real watch collector, since many Orbita watch winders are suitable for a large number of watches.
The collection of Orbita watch winders consists of different series. The Orbita Avanti series is one of them and it is extremely suitable for the real collector. This series is the most luxurious line of the brand and that is visible through the use of materials, the finish and beautiful designs. In the Orbita Avanti series there are watch winders available for winding 3 watches, increasing to watch winders with a capacity of up to 36 automatic watches. The Avanti series contains very luxurious watch winders where style and an eye for detail predominate.
With this specific series, Orbita has opted for the use of particularly beautiful makassar wood, glass doors and a beautiful base, which gives every Orbita Avanti watch winder allure. The wood used for Orbita's watch winders comes from Italy. That piece of Italian class makes the Orbita watch winders extra special. When it comes to motors, this high-quality brand chooses the very best. The Swiss motors are unrivaled in terms of reliability, durability and sound level. So you can say that an Orbita Avanti watch winder is a top combination of American development, innovation, Swiss technology and Italian class.
Orbita therefore offers a very luxurious design and progressive technology. The classic designs from the extensive collection of the Orbita Avanti watch winders do not only function as a winding mechanism for your automatic watches. They also offer a safe storage place for your collection, with all precautions taken into account. For example, the watch winder closes with a glass door, which ensures that harmful influences from the outside can be kept out. Furthermore, Orbita has chosen to coat the watch winders on the inside, so that your watches are optimally protected. The rotors of the Orbita Avanti watch winders are also individually adjustable. This fact ensures that the Orbita Avanti watch winders are suitable for any automatic watch, regardless of the brand or model of watch. The watch winders within the Orbita Avanti series have all directions of rotation and overwind protection.
Orbita watch winders are equipped with special protective watch pads. The watches are attached to this in the watch winder. These cushions are made of a type of foam and feature the Orbita logo, for the ultimate luxurious feeling. The cushions are suitable for almost all watches, but if you have extra small watches, there are also special extra small watch cushions available.
The Orbita Avanti watch winders are in the higher price range. If you, as a collector and lover of automatic watches, have a larger budget, the purchase of an Orbita Avanti watch winder is more than worth every cent. A watch winder of this caliber ensures that your watches, together with the watch winder itself, will be an absolute eye-catcher in any interior. An Orbita Avanti watch winder is an expression of class, style and good taste and a perfect storage place for your watches.
In our range you will find a wide collection of Orbita watch winders, including the luxurious Orbita Avanti watch winders. As an official dealer, we can help with the right service and good advice. When you order an Orbita Avanti watch winder from us, you will receive it in its original packaging with a 2-year warranty. Paying in the webshop is safe and easy, so place your order with peace of mind!