Benson Black Series 8.16.BL Limited Edition watch winder
Posted on 21 June 2021 at 3:05 PM
A watch winder is an indispensable accessory if you are an enthusiast or collector of automatic watches. In addition, for some, just like the watch itself, it is also a status symbol. Moreover, it is a great way to keep your watches organized and it even functions as a display for your watches. Depending on what you expect from your watch winder, the design is of greater or lesser importance when choosing a good brand and model. Also in terms of functionalities, one will have more wishes than the other. But the quality has to be good, that's for sure. Of course you don't want to pay too much for it and the price/quality ratio has to be good. As far as the watch winder brand is concerned, you have a wide choice. However, one brand is not the other and so it certainly pays to delve into the different brands in order to make the right choice.
Have you heard from the Dutch watch winder brand Benson? If not, it's definitely time you got to know it! At Benson you will find models of very good quality, for a competitive price. Moreover, Benson always manages to surprise with an exclusive and luxurious design and they make no concessions in terms of quality, technology and reliability. The finish of the Benson watch winders is also very high on the priority list. Benson also uses motors from Japan and Switzerland. These motors are very durable but also energy efficient and virtually silent in use. This provides you with a reliable basis for a durable watch winder in which you are guaranteed to wind your automatic watches professionally and safely.
Benson offers a very diverse collection with something for everyone. In terms of capacity, there is a choice of watch winders with space for 1 watch, but also for 16 watches, for example. And then everything in between. Every enthusiast and collector can indulge themselves with this collection. We also see a lot of diversity here in the field of design and technology. It is good to mention that Benson has recently included several new watch winders in the collection. This concerns new models in the Smart-Tech II series, the Swiss Series (Swiss motorcycles) and the new generation Black Series.
The new models of the Black Series also include the Benson Black Series 8.16.BL Limited Edition watch winder. This is a model suitable for winding up to 8 automatic watches. In addition, there is extra storage space for 6 more watches, and therefore very suitable for the real collector! This watch winder is produced in a limited edition (250 pieces worldwide), which makes the model extra special. This model is executed in the color classic blue and therefore an absolute eye-catcher. The watch winder closes with a door that is made of mineral glass. This model itself is made of high quality wood and finished with no less than 12 layers of paint and a protective layer. The inside is provided with fabric (soft velvet), so that you will not damage your watches when placing them in the watch winder.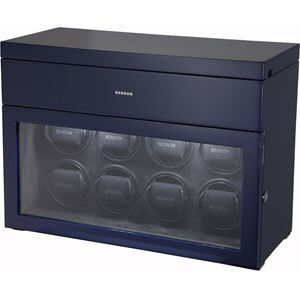 The heart of the watch winder is formed by very high quality Japanese motors. The high-tech touchscreen makes it possible to individually set the number of rotations and the direction of rotation for each rotor. In this way, the watch winder is specifically set perfectly for each watch. Benson also uses flexible watch holders. The combination of these two properties makes Benson's models suitable for any automatic watch, regardless of the brand or type of watch. Because the watch winder is equipped with built-in LED lighting, you can admire your watches at any time or, of course, show your pride to someone else! This model works with an adapter and has a USB connection.
With the Benson Black Series 8.16.BL Limited Edition you have a perfect solution for winding up your beloved watches as a collector. In addition, the watch winder will complement the appearance of your watches, because the luxurious appearance makes your watches look extra beautiful. You also offer them optimal protection against damage and external influences. Thanks to the extra storage space, you can keep your watches and any other jewelry neatly together. When you order this watch winder, you will receive it with an adapter and a clear manual. Of course you have a 2 year warranty. However, the quality speaks for itself.
We are official dealer of Benson and can therefore advise and assist you where necessary. With 15 years of experience in the field of watch winders, we can provide you with appropriate advice where necessary. Moreover, you will always find the most current collections and the best prices with us. You also have certainty with regard to service, quality and aftersales when you place your order with us. So don't wait any longer and maybe you will soon wind your automatic watches in a beautiful Benson watch winder.