Heisse and Sohne Collector 70019-134.10.131 watch winder
Posted on 15 June 2021 at 8:16 PM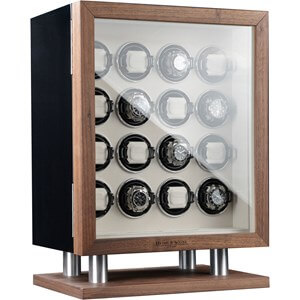 The watch winder, a device for automatic watches to prevent standstill of your beloved automatic watches. By rotating the watches, the timepiece receives energy and the watches remain wound so that you can wear them immediately. A watch winder is not only an indispensable accessory when it comes to preventing downtime in your automatic watches. For many enthusiasts of automatic watches, it will be seen as a kind of status symbol, just like the watches themselves. This is also reflected in the design of the watch winders, which in themselves are a real eye-catcher within any interior. We therefore see many beautiful brands on the market that not only go for the very best in terms of technology and quality, but also know how to get the most out of their aesthetics and thereby attract a specific audience. In this we can distinguish different types of watch winders. There are brands that opt ??for a more classic look, but also brands with very modern-looking models. In addition, there are various brands that are very recognizable with their own style and identity in this area with the watch winders that they market. Many brands that focus on enthusiasts who are looking for a model with a special appearance, will also try to convey a feeling of luxury with the design of their watch winders.
If you, as a lover and collector of automatic watches, are looking for the ultimate feeling of luxury, then we have the great example for you! The German brand Heisse & Söhne offers a beautiful collection of watch winders which are among the most luxuriously designed models available worldwide. The brand uses particularly beautiful materials such as beautiful wood in combination with metal and mineral glass. In addition to the design itself, Heisse & Söhne also focuses on finishing and high-quality technology. The brand also uses Japanese motors. These motors are not only very reliable, but also work energy-efficiently and are also quiet. So with a Heisse & Söhne watch winder you certainly don't have to be afraid of disturbing noises during the winding process.
What is striking within the Heisse & Söhne collection is that the brand mainly focuses on the real collector. Heisse & Söhne therefore offers many different models with a large capacity, so that the enthusiast with several watches in his possession is served at his beck and call. In addition to the well-known watch winders, Heisse & Söhne also offers watch winder safes. This guarantees optimal safety for your watch collection.
Within the Heise & Söhne collection, we find the Heisse & Söhne Collector 70019-134.10.131 watch winder. This is an extremely chic watch winder that will do justice to any watch collection. The watch winder offers space for no fewer than 16 watches and is therefore extremely suitable for every collector of automatic watches. As we are used to from Heisse & Söhne, we see a classic design with a beautiful wooden exterior. This, in combination with the beautiful foot, a partly black exterior and a beige interior, makes this watch winder not only very luxurious, but also original in appearance. The cabinet with door is lockable and in this way keeps outside influences, such as moisture, dust and condensation, out.
Technically, this Heisse & Söhne Collector 70019-134.10.131 watch winder offers almost everything you could wish for as an enthusiast. Using the modern touchscreen (LCD), you can easily set the number of rotations per day and the direction of rotation for each watch individually. This way you can be sure that each watch is wound individually according to the correct settings. In addition, the LED lighting ensures that you can view your watches well at all times. This makes the Heisse & Söhne watch winder not only a very good choice for the correct winding of your watches, but also serves as a display for displaying your watches and, of course, as a particularly beautiful and well-arranged storage place.
Furthermore, this watch winder offers the programs CW, CC and Alt and is equipped with an overwind protection. In addition, the watch winder is equipped with a sleep mode that allows you to temporarily give your watches a rest by keeping them just below the optimal level of excitement. In short, the Heisse & Söhne Collector 70019-134.10.131 watch winder is a very nice choice, both technically and in terms of appearance and reliability, if you are looking for a watch winder that does your watches justice and of course provides an efficient and mild way of winding. You therefore opt for real German reliability. In addition, Heisse & Söhne offers its watch winders at a good price/quality ratio. These watch winders belong to the top class, but are offered at attractive prices.
When you choose this specific watch winder from Heisse & Söhne, or of course one of the other particularly beautiful models from this high-end brand, you will receive it at home with a two-year warranty and of course a clear manual. We are an official dealer of Heiss & Söhne and guarantee you perfect quality, fast delivery and excellent service. In our webshop you can place your order and pay with credit card, iDeal, Paypal or via regular bank transfer. We will then ensure that your purchase is securely packed and that it is delivered to you neatly. Take a quick look at the current Heisse & Söhne watch winder collection.