Orbita Sparta Bold 1 W05521 watch winder
Posted on 14 November 2020 at 10:00 AM
The watch winder, the ultimate accessory for the enthusiast or collector of automatic watches. With the help of the right watch winder you can provide your automatic watches with the necessary movement when you are not wearing your watches. That way, your watch will be wound up so that it does not stop. Standstill can cause annoying problems, such as inaccuracies in date and time display. A good watch winder is therefore a purchase that will certainly be very handy. The market in watch winder offers a lot of choice. It is therefore important to ask yourself what you expect from a watch winder and what budget you have for it.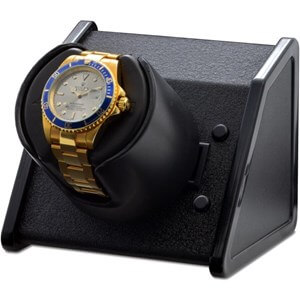 Are you looking for a watch winder? If you mainly want to purchase a functional and high-quality watch winder, the watch winder in this article is for certainly interesting for you. We would like to highlight a model from the collection of the high-quality watch winder brand Orbita. This brand originates from the USA and offers high quality watch winders with Swiss motors. The Orbita watch winders are characterized by the combination of a traditional design and high-quality modern technology. Orbita offers beautiful watch winders with a very good price/quality ratio in its collection for both the collector and the enthusiast with a single automatic watch. In the collection of Orbita watch winders you will also find models with various capacities. Within the collection you will find a number of watch winders for winding one watch, but also a beautiful case with space for winding up to 36 watches. Orbita also offers many different possibilities in the field of technology. You can go for models with different options, but a more basic model is also possible, of course of the best quality. It is not without reason that Orbita is among the top in this field.
In addition to the calibrated system of winding by means of rotation (Programmable System), Orbita also offers a system they have patented. This system is the so-called Rotorwind System. It provides the necessary energy supply by gently shaking the automatic watch. Since innovation is clearly of paramount importance at Orbita, you can expect a lot in the technical field. As one of the oldest watch winder brands on the market, Orbita has gathered a lot of knowledge regarding the most efficient and gentle way of winding automatic watches. The watch winders from Orbita are also suitable for any automatic watch, regardless of brand or type. You can easily wind your Breitling, Rolex, Oris, Baume et Mercier or IWC watch in an Orbita watch winder.
Orbita uses special watch holders in the form of cushions that are made of a type of foam that optimally protect your watches against damage and wear. The cushions feature the Orbita logo, which gives it an extra luxurious look. These cushions are available in different sizes. The standard cushions are suitable for most sizes of watches, but if you have extra small watches, then smaller cushions are also available so that the watches fit perfectly.
A nice model within the Orbita collection if you are looking for a compact design, without too much fuss is the Orbita Sparta Bold 1 W05521 watch winder. Characteristic of this watch winder is a clean and compact design. The watch winder is made of strong materials. There is a choice of different colors for this model, such as black, dark blue, dark green, dark red and brown. So there is an alternative for every personal taste. Because this model is so compact and works on batteries, you can easily and safely place the watch winder and therefore your watch in a safe. Taking it with you to the office or on a trip is therefore very well possible. This means that you are extra flexible with this watch winder.
The Orbita Sparta Bold 1 W05521 watch winder rotates in 2 directions, clockwise and counter-clockwise. The rotor is adjustable to the specific needs of your watch. The Swiss motor is not only of very high quality, but also energy-efficient and quiet in use. This ensures optimum user comfort. Of course you don't want to be bothered by annoying noises or worry about whether your watch winder will work. Of course, this specific watch winder is also equipped with an overwind protection. In terms of extra functionalities, this watch winder offers a long life battery system and the Rotorwind System.
We are official dealer of Orbita watch winders. In our webshop you will find an extensive collection of Orbita watch winders, including the Orbita Sparta Bold 1 W05521. If you choose to order this watch winder or one of the many other models from Orbita, you will receive it including an extensive manual, a 2-year warranty and original official box. When you place an order with us, you are assured of the correct service and, if necessary, appropriate advice.
As an official dealer of Orbita, we ensure careful delivery. In addition, we have extensive knowledge and experience in the field of watches and watch winders.