Benson Compact Limited Edition watch winders
Posted on 8 November 2020 at 9:48 AM
Christmas is coming and the year is almost over. The year 2020 has been very different from what almost everyone expected. The Covid 19 virus has changed the life we ??have become accustomed to and has had a major impact on many people. Let's hope that we get to hear better news soon and that we face new positivity.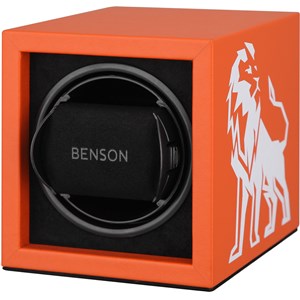 The last months of the year are of course always expensive, given Sinterklaas and Christmas. Many gifts are bought for family and friends. That is why we have introduced a special promotion for the special Benson Compact Holland edition watch winders, the Holland edition Black and Holland edition Orange. We have temporarily reduced the normal price sharply in price. As a result, you can now buy an excellent watch winder for a very low price.
The Benson Compact Holland edition watch winders
The Benson Compact watch winders have a modern design and compact design, so you can place them anywhere. Think of the living room, your office, bedroom or even in a safe. This watch winder works on mains power via the adapter and also on batteries.
The Benson Compact Holland edition watch winders are equipped with a solid Japanese motor that works almost silently. In addition, the watch winder is equipped with a flexible watch holder and an LCD display with which you operate the watch winder. This good combination of features ensures that the watch winder is suitable for winding any automatic watch. It doesn't matter if you have a Breitling, Rolex or Seiko watch. This watch winder winds your automatic watch quickly and easily.
The regular price of these Benson Compact Holland edition watch winders is 189.00 euros. We now offer these watch winders for 149.00 euros. These models are available in black with an orange lion on the side and in orange with a white lion on the side. The lion is of course a symbol of our beautiful country.
Are you looking for a nice watch winder with a special design? Take a quick look at the popular and temporarily discounted Benson Compact Holland edition watch winders.