New: Benson Swiss Series watch winders
Posted on 31 October 2020 at 7:47 AM
The Dutch watch winder brand Benson presented its very successful Black Series watch winders in 2016. This series became very popular in a short time because of the unique price/quality ratio. With more than 250 dealers all over the world, Benson watch winders is now a major player in the field of these watch accessories.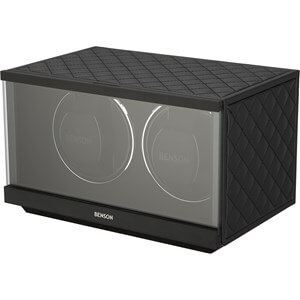 Now Benson presents its latest series, the Swiss Series. The Benson Swiss Series watch winders follow Benson's philosophy and craftsmanship. This new series of watch winders is compact, modern, luxurious and has Swiss technology. The compact design in combination with the high-quality materials such as stainless steel, real leather, mineral glass and wood creates a beautiful appearance.
The watch winders are available in a wooden and leather version. Various colors are available for both. The high-quality finish is reflected by the 12 layers of lacquer on the wood, the beautiful quality leather and the accents by the stitching.
The quality of the watch winders is guaranteed by the Swiss technology inside every Benson Swiss Series watch winder. The motor and gearbox are Swiss made and offer great quality, durability and a low sound level. Each automatic watch is supplied with energy in a professional manner so that it never stops. The glass front is particularly useful to protect the watch against condensation, dust and children's hands.
The Benson Swiss Series watch winders will be available for winding 1, 2, 3 and 4 automatic watches.
Functionality is very important and Benson has recognized that too. The Swiss Series watch winders are operated by one button, with which you can set various programs in terms of direction of rotation and number of revolutions per day (TPD: turns per day). This makes the watch winder suitable for winding any automatic watch, regardless of brand or model. The functionality is also expressed because the watch winder also works on batteries, in addition to mains power via the adapter. This makes it easy to place the watch winder in a safe or wardrobe or even take it with you when traveling.
The Benson Swiss Series watch winders are manufactured in the Netherlands. As a result, Benson, together with Swiss technology, ensures quality and durability. Naturally, a great deal of value is attached to the finish. This is visible on the watch winder itself, but also on the packaging and manual. Each Benson Swiss Series watch winder is numbered and comes with a certificate.
The fact that Benson presents the Swiss Series watch winders as a very high-quality product is also reflected in the 3-year warranty that comes with purchase.