Benson Black Series demo watch winders
Posted on 26 October 2020 at 4:05 PM
Have you been looking for a nice watch winder for winding your automatic watches for some time? Do you have a certain budget and are the most beautiful luxury watch winders just outside of this budget? In that case, the Benson Black Series demo watch winders offer a solution. These watch winders are demo models that have one or more small imperfections, which means that they are considerably discounted. These watch winders were used, for example, during a presentation where they have suffered a small scratch or miniscule dent. As a result, we can no longer sell these models for the normal price and we give a nice discount. This discount can be up to 40% of the original price. This allows you to buy an extremely luxurious watch winder for a very low price.
The Benson Black Series demo watch winders are new and come with a minimum of 1 year warranty on the technology. On request we can send photos of the exact model so that you can see the watch winder before purchase.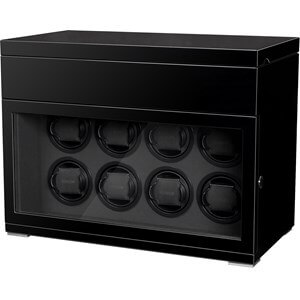 The advantages of the Benson Black Series watch winders
This generation of watch winders from the Dutch brand Benson is extremely popular. The brand has made huge strides since 2016, when the Black Series was launched. Currently, Benson has more than 250 dealers worldwide and the brand is highly appreciated by watch enthusiasts. The brand offers a wide collection of excellent watch winders. Benson watch winders are available for 1 to 24 automatic watches. In addition, the watch winders are available in all kinds of different colors and designs. The price level runs from 169.00 euros to 3299.00 euros. This gives you a wide choice of capacity, colors and price.
The Benson Black Series watch winders are distinguished by their excellent quality, very good functionality and modern designs. The watch winders use a touchscreen with which you can set the watch winder as desired. This allows you to wind any automatic watch from, for example, Breitling, Rolex, Omega, Breitling and Tag Heuer quickly and safely. Interesting extras the brand offers are LED lighting, flexible watch holders, extra storage space for other watches and jewelry and a power winding mode to provide automatic watches with energy extra quickly.
The designs of the Benson Black Series are modern and sleek. The watch winders are made of wood and have a door so that the watches are safely wound inside the watch winder. The stainless steel feet under the watch winder give the models a luxurious look. You can connect the watch winder to mains power, but you can also charge your mobile phone at the same time via the USB function.
High discounts!
The Benson Black Series demo watch winders are a great opportunity for those who want a beautiful luxury watch winder with a high discount. Despite the minimal imperfections in the form of a small scratch or dent, these models are fantastic watch winders.
From these demo models, we only have one or a few pieces available per model. Each Benson Black Series demo watch winder comes in the original packaging, including adapter and manual. Of course, the certificate is not missing and you get at least 1 year warranty on the watch winder. Interested in a Benson Black Series demo watch winder? Quickly view the current stock and high discounts!