Benson Black Series 6.16.CF watch winder
Posted on 20 October 2020 at 5:02 PM
When you, as a collector of automatic watches, look for a suitable watch winder you have plenty of choice. Yet there are a number of brands that not only deliver quality, but also offer something extra. A special brand that is really worth seeing if you want to buy a watch winder is Benson. Benson is a relatively young, Dutch brand in the field of watch winders, but still has considerable experience and knowledge of watch winders and watches. Benson has the watch winders from its collection manufactured in-house, resulting in high-quality products for a good price. In other words, Benson offers an excellent price/quality ratio.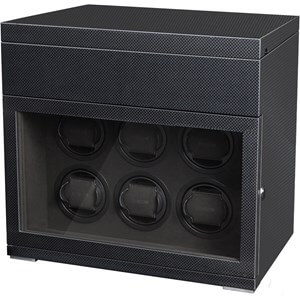 The watch winders from Benson are manufactured and finished with the greatest possible care. This can also be seen in the end result. The Benson collection is spacious, so that both enthusiasts with a single watch and the real collector who has several automatic watches have enough to choose from at this brand. The collection consists of different series, where you can choose from more basic or very luxurious models. Whichever watch winder from Benson suits you, the quality is consistent and you can always rely on your watch winder in terms of reliability and durability.
In this news item we place a specific watch winder from Benson in the spotlights. This watch winder is especially suitable for the collector. Because when you collect automatic watches, you want a watch winder that you can use to wind multiple watches at the same time. Depending on the size of your collection, Benson offers various options that are suitable for the real collector.
A nice model for the collector with an average number of watches is the Benson Black Series 6.16.CF watch winder. This watch winder is suitable for winding 6 automatic watches. The watch winder comes from the Benson Black Series, which is the most luxurious line of this beautiful brand. This watch winder is made by hand, by real craftsmen. One of the striking features is the eye for detail. Characteristic of this watch winder are, among other things, the carbon fiber exterior, no less than 12 layers of paint and the fabric inlay on the inside. Together, these properties provide an extra luxurious feeling and appearance. This watch winder model is also available in black, white and macassar. In addition, there are also a few Limited Edition models available. The materials used for this watch winder include fine wood, stainless steel and mineral glass. The watch winder is equipped with flexible watch holders and is suitable for any brand and type of automatic watch.
The Benson Black Series 6.16.CF watch winder is equipped with a soft close lid. In addition, this watch winder offers storage space for 5 extra watches in addition to the winding option for 6 watches. This is of course ideal if you want to keep all your watches and possibly other jewelry or cufflinks neatly together. This feature makes this watch winder more than complete. On a technical level, you will also be amazed at what the Benson Black Series 6.16 CF watch winder has to offer. With the modern touchscreen display you can easily set the number of revolutions per day and the direction of rotation, so that it is perfectly set for your watches. You can easily set this separately per rotor. The watch winder is equipped with high quality Japanese motors that are very reliable. These motors are not only very energy efficient in use, but also virtually silent. This prevents annoying and disturbing noises while winding your watches. By means of the built-in LED lighting you have a good view of your watches at all times, so that you can view them while winding. With this, the watch winder not only serves as an energy supply and protection, but also as a presentation for your watches. With the power winding function you can provide watches with the required energy in a short time and of course the overwind protection is also included. In addition, this watch winder is equipped with a USB connection. The watch winder works simply by means of an adapter via mains power.
Have you become curious about this specific watch winder from Benson after reading this blog? Or would you like to view the extensive collection? Then view the Benson watch winders in our webshop. You can view the Benson Black Series 6.16.CF watch winder, but also various other watch winders, because there is a video of the watch winders on the website. This way you get an extra good picture of the watch winder you want. All the features of the watch winder are also clearly arranged here.
When you decide to order the Benson Black Series 6.16.CF in our webshop, you will receive it at home with a clear manual, certificate, adapter and a two-year warranty. This way you can place your order with a good and safe feeling. You can also contact us for good advice, as we have many years of experience and knowledge of watch winders and watches.
Which watch winder you are looking for, with the help of the filters in the webshop you can easily find the watch winder that best suits your needs!