Paul Design Gentlemen 2+3 watch winders
Posted on 11 October 2020 at 8:13 AM
When you, as a enthusiast or collector of automatic watches, are looking for a watch winder that is suitable to wind your automatic watch or collection of automatic watches, you will soon find out that the choice of watch winders is very large. You can choose from a wide range not only in terms of quality and price, but also in terms of color, design and use of materials. Of course, the beautiful watch winder brands from Switzerland and Germany are very popular and praised for their quality, reliability and reliability. But the United Kingdom also has real gems in the field of watch winders. It is therefore really worthwhile to look into this, especially a good price/quality ratio plays a major role here.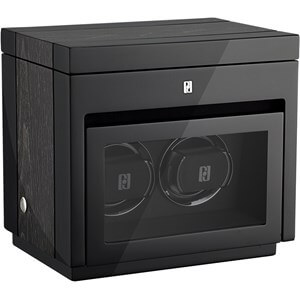 Paul Design watch winders is such a special and high-quality brand in this field, originating from the United Kingdom. The designer and founder of Paul Design watch winders only demands the best result. With a lot of experience and extensive professional knowledge, he knows exactly how to design what the real enthusiast and/or collector wants. In addition, the brand is uniquely able to deliver very good quality at a competitive price, making it a formidable competitor for the more expensive watch winder brands in this area. It is therefore not without reason that the name Paul Design as a relatively young brand has already managed to become very famous. In addition to good quality and price, Paul Design offers watch winders with a luxurious and stylish look that will not look out of place in any interior and make your watches stand out beautifully.
Because there is a wide range of watch winders with a larger capacity in the Paul Design collection, this brand is also very suitable for the collector. An example of a beautiful watch winder from Paul Design which is especially suitable for the collector or enthusiast who owns several automatic watches is the Paul Design Gentlemen 2+3 watch winder. Like all other Paul Design watch winders, this watch winder is suitable for any type of automatic watch, regardless of brand. This watch winder has a luxurious look and is available in the colors macassar, black and apricot. These models are made of high-quality materials such as wood and glass. Characteristic of the watch winders from Paul Design include the clearly present innovation and the use of the latest technologies. That is no different with this specific watch winder.
With a modern LCD display you can easily set your watch winder so that it is specifically suitable for your watch. Think of the direction of rotation and the number of revolutions per day, each rotor can be adjusted separately for this. The watch winder is also equipped with a powerful and quiet motor, of Japanese origin. These Mabuchi motors are known to work very quietly, also in the longer term. This means that you will not be disturbed by annoying sounds while winding your watch. In addition, these motors can be called energy-efficient and sustainable, which makes them an excellent choice. In addition, the Paul Design Gentlemen series offers extra functionalities such as a sleep mode, which gives your watches twelve hours of rest by keeping them just below the optimal level of spring tension. With the speed winding function you provide your watches with the required energy in a short time, ideal if you don't have that much time! Naturally, overwind protection is also available. And as icing on the cake, these watch winders come with a remote control.
The Paul Design Gentlemen 2+3 watch winders offer the possibility to wind two automatic watches at the same time. In addition, there is a storage option for three more watches. Ideal if you have several watches! During the winding, you keep a view of your watches, which the enthusiast will certainly experience as an extra plus. In short, the watch winders within the Paul Design Gentlemen 2+3 offer quality, durability, reliability, innovation and modern technology. With this watch winder you have the ultimate accessory for your automatic watches at a nice competitive price. And of course a real eye-catcher in your interior as well as a presentation option and safe storage place for your watches.
Have you become enthusiastic about the Paul Design Gentlemen 2+3 watch winder series or curious about the other watch winders in the Paul Design collection? Then take a look at our webshop! Watchwinders.com offers an extensive collection of Paul Design watch winders and of course many other brands of high quality watch winders. You can also go there for your favorite watch, good service and professional advice. Watchwinders.com has extensive experience and expertise in the field of watch winders and can therefore be of service to you in a professional manner. In the webshop you can easily fill in your wishes, which will bring you to the watch winders or watches that suit you best.
You order safely, quickly and easily your favorite watch winder or watch box. We supply all products with a warranty, manual or certificate. We ship for free within the Netherlands and offer favourable shipping rates worldwide. You can pay with your credit card, iDeal, Paypal or regular bank transfer.