Paul Design Gentlemen 2+3 Black Shadow 2023
Posted on 5 September 2023 at 3:55 PM
If you want to purchase a watch winder for your automatic watches, it can sometimes be a challenge to find the best watch winder that suits you, your watches and your wallet. When purchasing a model, it is important to opt for quality. After all, you don't just want your automatic watches to be supplied with energy efficiently, it is just as important that this is done in a safe and gentle way. It is also important that you can count on your watch winder in this area and that you can be sure that your automatic watches receive the best care and are supplied with energy, so that they do not stop.
To ensure that you choose the right watch winder and that it is of good quality, it is important to thoroughly delve into the various options before purchasing a watch winder. For example, watch winders are available on the Asian market at a very low price, but they are not of the best quality. In addition, models are available from various renowned brands, such as from Switzerland, where you have to dig deep into your pockets to purchase a good watch winder. The Paul Design brand is a brand where the people behind it saw the gap between the Asian market and the much more expensive high-quality watch winders that were available. The ambition of the brand has therefore been from the start to produce high-quality watch winders at an attractive price. With this, the brand aimed its arrows at a very wide audience. Today there is therefore a beautiful collection of watch winders available from Paul Design that knows how to enthuse many enthusiasts and collectors of automatic watches.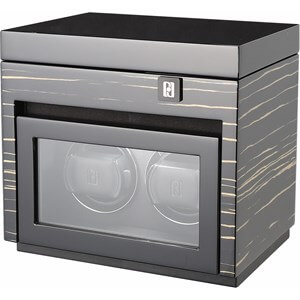 The Paul Design collection offers models for winding a single automatic watch, but also for a few automatic watches and even for an entire collection. In addition, the appearance of the watch winders is luxurious and diverse. The brand's watch winders are also made of high-quality materials so that they last a long time. In addition, the models from Paul Design are notable for their high user comfort. The Paul Design collection includes the Paul Design Gentlemen 2+3 Black Shadow 2023. This watch winder offers the capacity to wind two automatic watches at the same time and also provides extra storage space for another 3 watches or any other jewelery . This makes this watch winder ideal for the small collector who owns both quartz/mechanical watches and automatic watches. This watch winder is made of wood and executed in the color Black Shadow, which gives the watch winder its own unique look. The Paul Design Gentlemen 2+3 Black Shadow 2023 has a soft fabric on the inside to protect your watches. Moreover, it is lockable, so you offer your automatic watches the best possible protection. Because the watch winder is equipped with a glass door, you can view your watches at any time of the day, even during the winding process. Moreover, this luxury watch winder is equipped with built-in LED lighting, so you can put your watches in the spotlight. The Paul Design Gentlemen 2+3 Black Shadow 2023 is equipped with high-quality Mabuchi motors of Japanese origin. These are of very good quality and also affordable. They are powerful enough to wind the heaviest automatic watch and very reliable. In addition, these motors are known to be energy efficient and operate in silence, which certainly benefits user comfort.
The Paul Design Gentlemen 2+3 Black Shadow 2023 is fully adjustable. This way you can determine the direction of rotation and the number of rotations per day separately for both watches. This ensures that each individual watch receives the best possible way of winding. Setting up the watch winder is easy and fast with the handy control panel. Finally, with this model you have the programs CW, CC and Alt and an overwind protection. The Paul Design Gentlemen 2+3 Black Shadow 2023 can function on both battery and with the help of an adapter. This has the advantage that you can also store this compact watch winder in a safe if desired. With this you opt for optimal safety for your watches. The compact model in combination with battery operation also makes it possible to take your watch winder with you when traveling or to the office. This is ideal if you like to take your automatic watches with you on a business trip, for example.
You order your Paul Design watch winder with trust in our online store, as we are an official dealer. We offer a wide collection of this progressive brand in our webshop and we also offer the latest collections, the best prices and the best service. The Paul Design Gentlemen 2+3 Black Shadow 2023 comes with a 2-year warranty and a clear manual so that you can get started with your new purchase immediately.