Benson Triple watch winders for 3 watches
Posted on 29 August 2023 at 3:27 PM
If you own an automatic watch, a watch winder is an essential part of this hobby. This is especially true if you own several automatic watches. After all, an automatic watch is wound by the movement of your wrist when you wear the watch.
However, you don't always wear an automatic watch, especially when you own more than one. A watch winder offers you the possibility to wind and store your automatic watches. It is important to choose quality, after all you want a safe storage place for and a safe way of winding your watches. That is why you choose a reliable brand in this area when choosing a watch winder.
Benson is a Dutch watch winder brand that offers high quality watch winders and watch boxes. Benson's products all have a very good price/quality ratio, so you can purchase a high-quality watch winder for a competitive price. The Benson collection is surprising and versatile. There is a choice of a wide variety of watch winders with a different design and watch winders with a diverse capacity. Benson also offers very nice watch winders for the enthusiast with several automatic watches and for the real collector.
An example of a watch winder with space for winding multiple watches is the Benson Compact Triple 3.BG watch winder. This watch winder offers the capacity to wind three watches at the same time and is therefore very suitable for the enthusiast who owns three or four automatic watches. The watch winder is made of high-quality wood and completely in the color black. The inside of the watch winder is covered with a soft fabric to protect your watches. Thanks to the special flexible watch holders that Benson uses, you can easily click almost any size watch into the watch winder without any problems. In addition, the watch winder is adjustable in terms of direction of rotation and the number of turns per day. It is possible to do this for each watch individually, so that every type and brand of automatic watch gets exactly the right way of winding in this watch winder. The Benson Compact Triple 3.BG watch winder is also equipped with a handy touchscreen, which makes setting up the watch winder very easy. The basis of this watch winder is formed by three Japanese motors of excellent quality. These motors not only provide a reliable and energy-efficient way of winding, but also do their work in silence. This means that the watch winder can also be placed perfectly in the office or in the bedroom, for example. The built-in LED lighting ensures that you always have a very nice view of your beloved watches. With the special power winding function you can, if desired, provide your watches with the necessary energy in a short time, ideal when you don't have much time to spend. With these special features, it becomes clear that Benson attaches great importance to the user comfort of the watch winders within the collection. Finally, the Benson Compact Triple 3.BG watch winder offers the programs CW, CC and Alt and an overwind protection. With this last functionality you protect your watches against overvoltage. The watch winder functions with the help of the supplied adapter.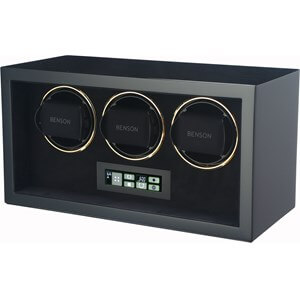 The second watch winder from Benson that we would like to tell you more about is the Benson Compact Triple 3.WAS watch winder. This Benson model also offers space for winding three automatic watches at the same time. This model has a very luxurious and elegant appearance due to the beautiful wooden exterior in combination with the black interior. This watch winder is also equipped with high-quality Japanese motors, so you can always be sure that you can count on your watch winder. With the innovative touch screen you can change the settings in terms of direction of rotation and the number of revolutions per day individually for each watch. This Benson model also offers the programs CW, CC and Alt, an overwind protection and power winding function. This model also has built-in LED lighting, so you can use this watch winder not only to wind your watches, but also as a storage place and as a stylish display for your watches. Benson has also used flexible watch holders for the Benson Compact Triple 3.WAS watch winder, for easy and safe placement of your watches.
If you have become interested in the high-quality watch winders from Benson, you can take a look at our webshop. Here you will find an extensive collection of watch winders from the brand, with clear photos, clear information and also videos of certain models. The Benson Triple watch winders are supplied by us with a two-year warranty, a clear manual and an adapter. In addition to watch winders with high-quality Japanese motors, you will also find watch winders with Swiss made motors in the Benson collection. So there is always a Benson watch winder that suits you.