Swiss Kubik Aluminum Carbon watch winder
Posted on 22 August 2023 at 11:36 AM
Switzerland is known as the watch country pur sang. Swiss made watches and Swiss made watch winders must meet the highest requirements and standards, so that only the best brands are allowed to carry the Swiss made label. The Swiss spirit combines respect for tradition with a drive for innovation. The Swiss watch winders of the exclusive Swiss Kubik brand are also handmade by the craftsman, with a passion and love for tradition and pure craftsmanship. At the same time, these watch winders are equipped with the most modern technology and high-end gadgets. A Swiss watch winder from the Swiss Kubik brand is therefore one of the best in the world. With a watch winder of this caliber you choose the best way to wind your automatic watch or watches and therefore for certainty. A Swiss watch winder from Swiss Kubik ensures that your automatic watch never stops and also offers a safe storage place for your automatic watch, so you don't have to worry about damaging your watch.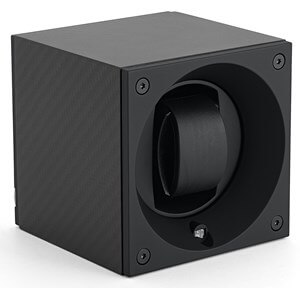 Swiss Kubik offers an extremely beautiful and extensive collection of watch winders. What makes a watch winder a real Swiss Kubik is not only the extremely high quality. The watch winders of the brand are also characterized by the cube-shaped design. Moreover, the Swiss Kubik watch winders are all compact in design. As a result, there is a nice place for these watch winders in every interior. The Swiss Kubik collection contains watch winders with various capacities. Not only the enthusiast with a single automatic watch, but also the real collector can find the perfect watch winder for his collection within this collection. Swiss Kubik's designs are all cube-shaped, but the brand still manages to offer diversity in appearance. This is due to the use of different materials, including leather, wood, polyamide and aluminum. You can also go in all directions with Swiss Kubik when it comes to color. This makes the brand interesting for a wider audience.
When we look at the watch winders that are suitable for winding a single watch, several appealing models are possible. There is also a choice of watch winders in different price ranges. We would like to tell you more about the Swiss Kubik Aluminum Carbon in this article. This watch winder is made of aluminum and has a carbon look. Because the watch winder is made of aluminum, it is not only strong but also light in weight. The watch winder is therefore very handy due to the combination of the compact design with the light material. The watch winder is 10 x 10 x 10 cm and is small in size, but certainly no less impressive. Every automatic watch will look extra beautiful in this watch winder. The watch winder is easy to carry. For example, you can easily take this model with you on vacation or to the office. This Swiss Kubik Aluminum Carbon watch winder is not lockable, but if you want you can make the watch winder lockable with an optional protective glass. This ensures that you literally keep various harmful influences outside the door, such as moisture, dust and dirt. The heart of the watch winder is formed by a Swiss motor, with which every automatic watch can be supplied with energy without any problems. The energy for this is provided by a set of AA batteries, on which this Swiss Kubik Aluminum Carbon watch winder can function for up to three years. This is not only energy efficient, this feature also ensures that you can store your watch winder and therefore your automatic watch in a safe.
The Swiss Kubik Aluminum Carbon is easily adjustable, because this model is equipped with a handy USB connection. This allows you to easily set the number of revolutions per day, so that your automatic watch can be supplied with energy in exactly the right way. Finally, this watch winder is equipped with Bluetooth. All in all, with the Swiss Kubik Aluminum Carbon you opt for a top-quality watch winder, with which the winding of your automatic watch is perfectly arranged. In addition to this model, you will find many other beautiful and high-quality models within the Swiss Kubik collection that are certainly worth a look. We offer an extensive collection of Swiss Kubik in our webshop. The Swiss Kubik Aluminum Carbon can also be easily ordered from us. After ordering, we ensure that your new watch winder is packaged extremely carefully and then send it to you with a clear manual. You also receive the watch winders from Swiss Kubik with a warranty of no less than three years, so you always make your purchase with peace of mind. Payment is possible with us with various secure payment methods, such as Paypal, iDeal, credit card or a regular bank transfer.
Are you looking for a watch winder of Swiss made quality with a beautiful design? Then you are definitely in the right place at Swiss Kubik. View the options now and choose the best for your automatic watch.