Recommended: Swiss Kubik Aluminum Black watch winder
Posted on 7 January 2021 at 6:51 PM
The national pride of Switzerland includes beautiful watches and watch winders of pure quality. The watch country pur sang therefore has a reputation to uphold and therefore sets high conditions and requirements for products and brands that want to carry the Swiss made label. Not only are conditions attached to the origin of the parts and materials of Swiss made watches and watch winders, the label also sets specific requirements for the assembly of the products. This means that with a Swiss made product you can be sure of the quality, durability and reliability of what you have purchased. The Swiss made label certainly plays a major role when purchasing a good watch winder. Brands such as RDI, Bernard Favre and Swiss Kubik have an excellent reputation. But the Dutch brand Benson also produces Swiss made watch winders of very high quality.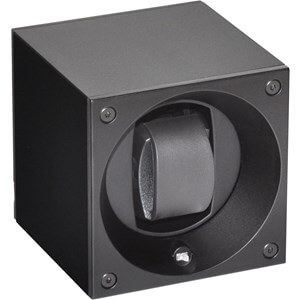 A Swiss brand in the field of watch winders that belongs to the absolute top is the well-known brand Swiss Kubik watch winders. Any enthusiast or collector of automatic watches will have a warm heart for this brand. Swiss Kubik is not only known for the high quality of its products, but also for its recognizable cube-shaped designs. The Swiss Kubik watch winders are sleek and modern in design and due to the compact design they can easily be placed in any interior and also easy to take with you when traveling. This advantage is further enhanced by the fact that the Swiss Kubik watch winders function for up to 3 years on a set of batteries. Not only do you easily take a Swiss Kubik watch winder with you due to these specs, you also easily use it at the office and placing it in a safe is also a good option. Many enthusiasts of automatic watches will consider this a great advantage, after all, you want to be able to store your beloved automatic watches as safely as possible. The Swiss Kubik watch winders are suitable for any type and brand of automatic watch and are easily programmable.
The Swiss Kubik collection offers a wide choice of different series of watch winders. Both enthusiasts with a single automatic watch and collectors can indulge themselves with a Swiss Kubik watch winder. The brand offers watch winders with various capacities.
In this article, we pay particular attention to the Swiss Kubik Aluminum Black watch winder. This watch winder is suitable for one automatic watch and is characterized by the black aluminum exterior. This watch winder is of course equipped with a Swiss motor that is not only energy efficient, but also very quiet in use. This watch winder is adjustable via USB connection, so you can easily set the direction of rotation and the number of rotations per day. Of course, the overwind protection is present as well. This watch winder offers everything you need as a fan of automatic watches, without all kinds of fuss. And that for a nice price. So if you are looking for a high-quality functional watch winder that is easy to handle and easy to program, you have come to the right place with this model.
In addition to the watch winders themselves, Swiss Kubik offers various options to supplement them. Think of protective plexi-glass for your watch winder, with which you offer your watches extra protection against external influences. Examples of this are dust, condensation and dirt. Another option are the smaller watch holders, which are ideal for smaller men's and women's watches.
Do we have your interest? If you want to order the Swiss Kubik Aluminum Black watch winder, or view the other watch winders in the collection, it is recommended to do this at an official Swiss Kubik dealer. An official dealer is well aware of everything that has to do with qualitative watch winders and can therefore provide you with the correct advice and the necessary service. We are official dealer of Swiss Kubik and have more than 15 years of experience in the field of watch winders. We supply Swiss Kubik watch winders with a 3-year warranty, so you can be sure that you are assured of a top product! When you decide to order a Swiss Kubik watch winder in our webshop, you will receive it at home with the aforementioned 3-year warranty and the watch winder is packed in a sturdy packaging. Of course, this Swiss Kubik Alumnium Black watch winder is also accompanied by a clear manual, so that you can quickly start using your new watch winder.