The perfect Orbita watch winders for winding automatic watches
Posted on 20 February 2020 at 10:54 AM
The best automatic watches do still come from Switzerland. Although Germany, Italy and France have also built up a good reputation. The best watch winders are not only from Switzerland. Orbita watch winders is a beautiful watch winder brand that does not originate in Switzerland but is of American origin. This watch winder brand uses Swiss technology in its watch winders. Every Orbita watch winder is made by hand with the utmost care and precision. Orbita watch winders are among the best in this field and are a great choice for any enthusiast or collector of automatic watches who would like to have his or her collection of automatic watches run on time.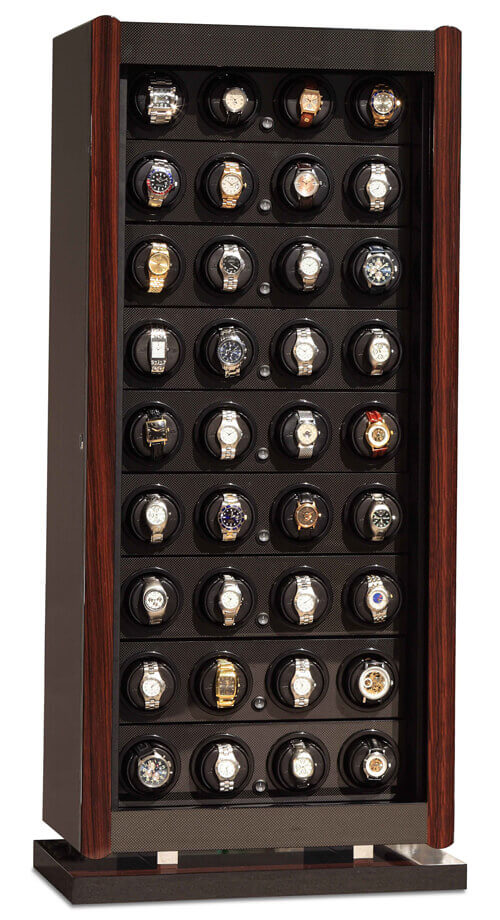 Orbita distinguishes itself from various other watch winder brands in various areas. As far as technology is concerned, Orbita is a leader. They therefore have several patents. Orbita, for example, offers two different effective ways of excitement. Namely the programmable and rotorwind technology. In addition to the most common way of winding (by rotating the watches), Orbita offers the so-called rotor winding system. With this system, Orbita provides automatic watches with the required energy by gently shaking the watches. The motors of the watch winders from Orbita are made in Switzerland and function almost silently. The use of materials with these watch winders is also worth mentioning. Beautiful, high-quality materials such as Italian wood and carbon are used. Another characteristic of Orbita is the beautiful finish of the products. Every Orbita watch winder is not only an indispensable accessory when it comes to winding automatic watches, but also a real eye-catcher and stylish addition to your interior at home or at the office.
Orbita watch winders are also available with different capacities. For example, in the so-called Sparta series of Orbita watch winders models with space for one or two automatic watches. In the Avanti series, however, there is ample choice for the real watch collector with watch winders with a capacity for three watches up to 36 automatic watches. In this series we see watch winders with nice extra functions such as an LCD display, separately adjustable motors and wind protection. Three directions of rotation are available: CW, CC and alternate. The watch winders are also energy efficient and quiet to use. This makes these watch winders very comfortable to use and they will last for years.
In our webshop you can find a stylish watch winder from Orbita. We have been the official dealer of Orbita for many years and have the latest models available. The wide range of Orbita offers a suitable watch winder model for every enthusiast or collector. When you order an Orbita watch winder in our webshop, it comes with a two-year warranty and manual. Of course we ship worldwide and you can pay with your credit card, iDeal, Paypal or regular bank transfer.