Benson Compact Aluminum 1 Dark Gray
Posted on 21 October 2023 at 8:02 AM
If you are looking for a watch winder for your automatic watches, there is quite a choice. But you have to think carefully about what is important to you. What exactly do you need for your automatic watches?
Our web shops are specifically aimed at watch winders. As a specialist in the field of this watch accessory, we have more than 18 years of experience. We visit specific brands, factories and various watch fairs to keep our knowledge and skills up to date. This is very important, because we then know what the innovations are in terms of technology, functionality and design.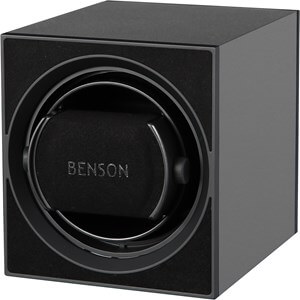 But where exactly should you look for a good watch winder? Our advice is to always buy from an expert. This could be a jeweler or a specialist in the field of this watch accessory.
In countries such as Switzerland and Germany, many high-quality brands can be found with the Swiss made or German made label. These models are of top quality and made of high-quality materials. However, these models are often in a higher price range. Then there are the very cheap watch winders from Asia, for example, these models are much lower priced, but not always of the desired quality.
If you are looking for a watch winder with an extremely good price/quality ratio, there are also several nice brands that will certainly appeal to you. An example of such a brand is the Paul Design brand. Paul Design is a brand from the United Kingdom, with watch winders that are definitely worth a look. Here in the Netherlands you can also find a model of excellent quality at an attractive price.
In this context, the progressive brand Benson offers a very extensive and beautiful collection of watch winders, where almost every enthusiast and/or collector of automatic watches will be able to find a suitable model. For example, in the Benson Black Series you will find very luxurious models with handy extra storage space, built-in LED lighting and power winding function. These watch winders are equipped with high-quality Japanese motors. In Benson's Swiss Series we see models with a modern look, equipped with the well-known Swiss made engines. In addition to these two series, there are many more options within the Benson collection, also regarding the capacity of the watch winders.
In this article we would like to pay more attention to a series of watch winders from Benson, which have a compact design and are made of aluminum. The Benson Compact Aluminum watch winders are fresh off the press and are a valuable addition to Benson's already extensive and varied collection. These models have a cube-shaped design and are also very handy. Because the watch winders are made of aluminum, they are not only durable, but also lightweight. We would like to tell you more about a specific model from the Benson Compact Aluminum series, namely the Benson Compact Aluminum 1 Dark Gray. This watch winder is of course also made of aluminum and comes in dark gray. In addition to this model, this same model is also available in the colors light gray, black, white and blue. The inside of the watch winder is black in color, which makes the automatic watch extra eye-catching. The special built-in LED lighting allows you to put your watch in the spotlight if desired. The Benson Compact Aluminum 1 Dark Gray is equipped with a handy flexible watch holder. This ensures that almost any size watch can be placed in the watch winder without any problems. You do not have to worry about scratches or other unnecessary damage to your automatic watch.
The solid basis of the Benson Compact Aluminum 1 Dark Gray is formed by a Japanese motor of very good quality. This motor effortlessly takes care of the winding of any type and brand of automatic watch, even if it is a very heavy watch. Moreover, these engines are known for being energy efficient and therefore sustainable. Finally, the engine does its work in silence. This allows you to place the Benson Compact Aluminum 1 Dark Gray in places where silence is desired. You can think of, for example, the office or the bedroom. The Benson Compact Aluminum 1 Dark Gray also offers the CW, CC and Alt programs. Of course, the watch winder also has overwind protection, so you don't have to worry about overvoltage of your automatic watch. The Benson Compact Aluminum 1 Dark Gray works with the help of an adapter, but can also function on batteries. This model can function for up to 6 to 9 months on a single set of batteries. This not only increases the user comfort of the models because you hardly have to worry about them, but it also makes it possible to place the watch winder and thus your luxury watch in a safe. All in all, the Benson Compact Aluminum 1 Dark Gray is a watch winder that provides a very effective and safe way of winding any automatic watch. In combination with the beautiful and modern design and the attractive price, this watch winder is definitely an excellent choice for every lover of automatic watches.
If you would like to order the Benson Compact Aluminum 1 Dark Gray, you can do this easily and quickly in our webshop. Because we have almost the entire Benson collection in stock, your order will be delivered quickly! If you would like appropriate advice about which watch winder suits you and your automatic watch or watches best, we are happy to help you.