How does a watch winder work?
Posted on 9 November 2023 at 12:14 PM
You may have heard of a watch winder. This watch accessory is becoming increasingly popular and most watch enthusiasts and collectors own one or more. But what is a watch winder? And how does a watch winder work? In this article we answer these questions and discuss a nice example of this watch accessory.
It is a well-known problem for enthusiasts of automatic watches: your automatic watch stops working. This is very annoying as it means you have to reset your watch every time. You can think of the time itself, but also the date, a moon phase or GMT function, for example. In addition to this annoyance, downtime of your automatic watch can also mean inaccuracies in time and date display. An automatic watch depends on the right movement for its winding. When you wear your automatic watch, this is no problem. Due to the natural movement of your wrist, your watch is then automatically provided with the necessary winding. In addition to the winding function, the correct movement also ensures that the oil in the movement of the automatic watch is distributed correctly. This ensures the longevity of your watch. Here you don't have to worry about when you wear your watch. However, if you do not wear it, for example because you have several watches, then a different solution is required. That's where the watch winder comes into play.
A good watch winder ensures that every type and brand of automatic watch is provided with the correct movement, so that it is automatically wound. Depending on the brand, this is done by means of rotation or, for example, by gently shaking the watch. Various brands have conducted research to develop the mildest and most efficient method of exercise. This way you can be sure that your watch is in good hands when you place it in your watch winder for excitement. With a high-quality watch winder you ensure the necessary winding and the correct distribution of the oil in your automatic watch. In addition to the winding function, a good watch winder offers even more options. This way, a quality model offers a safe and well-organized storage place for your automatic watch or watches.
A high-quality watch winder is equipped with good watch holders that ensure that your watch can be placed in the watch winder easily and without damage. Most models also have a soft fabric on the inside to prevent scratches or other damage. If you want, you can also opt for a watch winder that is lockable. This prevents unnecessary damage or wear to your watches due to harmful external influences.
A final nice function that a good watch winder can fulfill is the function of a display. This way you can present your automatic watch or watch collection in an attractive way. Many brands pay a lot of care and attention to the design to ensure that your automatic watch or watches look extra good in the watch winder. There are also brands that, for example, have built-in LED lighting in their watch winders. This allows you to put your watches in the spotlight if desired, for an extra nice view of your watches.
A good example of a brand that offers watch winders that are very suitable for fulfilling all three of the above functions is the Dutch brand Benson. We would like to tell you more about a specific watch winder from this brand, which is especially suitable for the collector. We are talking about the Benson Black Series 4.16.W. This model offers space for winding 4 automatic watches at the same time. In addition, Benson has also provided extra storage space for this model, for 3 additional watches. You can of course also use this space for any other jewelry, or cufflinks, for example. The watch winder is made of wood and has no fewer than 12 layers of paint and a protective layer of lacquer. The color of the watch winder is white. The watch winder has a special soft velvet on the inside to protect your watches. Because Benson uses flexible watch holders, almost any watch can be placed in the watch winder without any problems. This model is also lockable. It can be opened at the front with a glass door and at the top with the special luxurious soft close lid.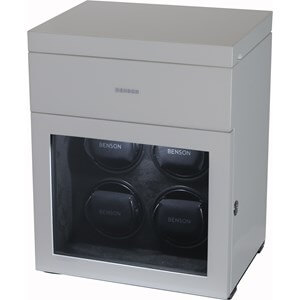 The Benson Black Series 4.16.W from Benson is equipped with top quality Japanese engines. These motors provide every model of automatic watch with the required energy efficiently and safely. The watch winder can also be adjusted separately per rotor. This means that you can specifically set the direction and number of rotations for each watch. You can do this with the handy touchscreen display, which ensures that the user of the Benson Black Series 4.16.W experiences a high level of user comfort. The Benson Black Series 4.16.W is also equipped with the CW, CC and Alt programs and overwind protection. This last function ensures that your watches are protected against overvoltage. With the special speedwinding function you can also supply your watches with energy in a shorter time. The built-in LED lighting guarantees a perfect view of your watches at any time of the day. Finally, this model is equipped with a USB connection and comes with an adapter.
With the Benson Black Series 4.16.W watch winder we have shown that a watch winder can fulfill various functions, in addition to the important winding function. A good watch winder is therefore absolutely indispensable if you own one or more automatic watches.
Take a quick look at our collection of watch winders!