Orbita Sparta Bold 1 Blue W05525 watch winder
Posted on 2 March 2023 at 2:40 PM
Since the development of the watch winder, a major problem of automatic watches has finally been solved. A watch with an automatic movement does not work on battery or by manual winding. An automatic watch can only function through movement. When you have the watch on your wrist, it is therefore automatically supplied with the necessary energy through the natural movement of the wrist. However, when the watch is not being worn, the watch does not wind up automatically. This may result in the watch standing still. When an automatic watch comes to a standstill, this can have unpleasant consequences. For example, it can cause inaccuracies in the time display. In addition, after your automatic watch has stopped, you will also have to reset any nice extra functionalities such as a date display, GMT function or moon phase indication. This is of course highly undesirable.
When an automatic watch is not worn, it can therefore be placed in a good watch winder. This then ensures that the watch is wound and is therefore always ready for use. In addition, a good watch winder also immediately provides a safe storage place for your watch or watches and ensures good oil distribution in the watch. So there are many reasons to purchase a watch winder as the owner of 1 or more automatic watches.
If you want to purchase a watch winder, it is important to opt for quality. After all, you want a safe and effective way of winding your watch or watches. There are several leading brands that offer top quality watch winders. Many of these brands are based in Switzerland, as the watch country in the world. But beautiful brands can also be found in other countries that have not only followed the development of the watch winder, but have also played an important role in the development of technology in this area. A good example of this is the Orbita brand. Orbita is based in the United States and is a brand that places innovation and innovation high on its list of priorities. The brand has several patents to its name. At Orbita, for example, you can choose between the well-known 'Programmable System' and the innovative 'Rotorwind System'. The latter system was developed by Orbita itself and takes care of the winding of automatic watches by gently 'shaking' the watch. The first mentioned system does this by means of rotation.
Within the Orbita collection you can find beautiful watch winders in the form of wooden cabinets, especially suitable for the real collector. In addition, the brand also focuses on the enthusiast who owns 1 or a few automatic watches. A watch winder suitable for winding 1 automatic watch at a time from the Orbita collection is the Orbita Sparta Bold 1 Blue W05525. This watch winder is made of plastic and blue in color. In addition, Orbita also offers this model in various other colors, such as black, brown and red. The Orbita watch winders are equipped with high-quality Swiss motors. These motors provide every type and brand of automatic watch with energy in silence, so that you can also easily place the watch winders from Orbita in a bedroom or office, for example. Moreover, these Swiss-made motors are reliable, energy-efficient and durable, which fits in perfectly with today's zeitgeist. The Orbita Sparta Bold 1 Blue W05525 offers the programs CW, CC and Alt and of course also an overwind protection. The rotor is adjustable, which ensures that you can provide your automatic watch with the most ideal way of winding. If you want to place your watch in the watch winder, you can easily attach it to the specially designed flexible watch cushion. Due to their flexibility, these cushions are suitable for almost any size automatic watch. However, if you own a very small automatic watch, it is also possible to order special smaller watch cushions. These are provided with the Orbita logo, which emphasizes the perfect finish of the brand's products.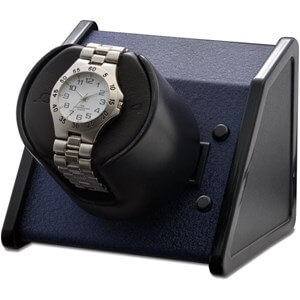 If you want to order the Orbita Sparta Bold 1 Blue W05525 or are curious about the various other designs of this exclusive brand, it is definitely worth taking a look at our webshop. We offer a nice selection of Orbita watch winders for both the enthusiast with a single automatic watch and for the real collector. Moreover, we are an official dealer of Orbita and with our broad experience in this area we can always assist you with appropriate advice or the answer to your questions. The Orbita watch winders are always supplied by us with a 2-year warranty and a clear manual. You can get started with your new watch winder right away! View our range of Orbita watch winders now and choose your favorite!