Watch winder for 4 watches up to 1000 euros
Posted on 29 December 2022 at 8:45 AM
We are regularly asked which watch winder is best to choose. However, this depends on several aspects. For example, how many watches you want to wind, your budget and preferences in terms of brand and design. The color also plays an important role, because you want your watch winder to fit nicely into your interior. But you can also place this watch accessory in a safe, such as the handy Swiss Kubik watch winders, so that the appearance is less important.
One watch winder is not the other. There is not only a lot of variety in terms of arousal capacity and design. There is also a lot to choose from in terms of material use and the type of engine. In addition, there are brands on the market that are known for various positive properties in this area. A good example of such a brand is the Benson brand. Benson is a Dutch brand that is known, among other things, for the production of high-quality watch winders at attractive prices. In other words, the price/quality ratio of the Benson models is excellent.
In addition, Benson knows exactly what the enthusiast of automatic watches is looking for in a watch winder. Of course the way of excitement is important, but nice extra functionalities can offer great added value. This is something that is clearly reflected in the Benson collection. In this article we would like to introduce you to two watch winders that are suitable for winding 4 automatic watches. Both watch winders come from the Benson collection and both models cost less than 1000 euros.
The first of these two watch winders is one from the most luxurious series of the brand, namely the Benson Black Series 4.16.CF. The models from the Black Series from Benson are characterized by a sublime finish and luxurious appearance, in combination with a piece of technical finesse and beautiful extras. The Benson Black Series 4.16.CF not only offers space for winding 4 automatic watches at the same time, but also has extra storage space for another 3 watches. This allows you to store all your watches and other jewelry neatly and conveniently together. This watch winder is made of carbon and made of quality wood.
The watch winder is very beautifully finished and provided with no less than 12 layers of paint and a protective layer of lacquer. The watch winder can be closed at the front with a glass door, so you can offer your watches extra protection. In addition, the watch winder is equipped with a soft close lid, with which the extra storage space can be neatly closed. The Benson Black Series 4.16.CF watch winder is equipped with four Japanese motors. These ensure that even the heaviest watch can be powered effortlessly. They are also energy efficient and quiet in use for optimal user comfort.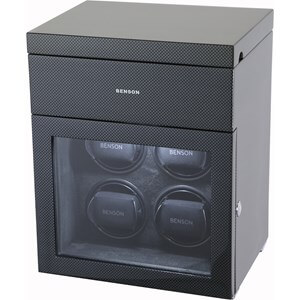 The modern touchscreen ensures that you can easily change the settings of the watch winder. It is possible to do this per rotor separately, so that you can offer each watch the most ideal way of winding. This way you set the direction of rotation and the number of rotations per day per watch. With the built-in LED lighting you always have a good view of your watches, even during the winding process. The watch winder offers the programs CW, CC and Alt and an overwind protection. As icing on the cake, this watch winder also offers a power winding function and a USB connection.
The second Benson watch winder that we mention is the Benson Smart-Tech II 4.20.B watch winder. You can also wind 4 automatic watches at the same time with this model. In addition, this model offers space for storing 5 extra watches. This watch winder is made of wood and has a black color on both the exterior and interior. The inside of the watch winder is covered with a soft fabric to protect your watches against scratches or other damage. The mineral glass door provides optimal protection and a good view of your watches. This is further emphasized when you switch on the LED lighting. With the Benson Smart-Tech II 4.20.B watch winder you choose a watch winder with four Japanese motors. This means that you can also place your watch winder in the bedroom or office without any worries, without having to be afraid of disturbing noises. These Japanese engines are known for being very quiet in use. This Benson model is equipped with a modern touchscreen, which allows you to set the direction of rotation and the number of revolutions per day separately for each rotor, among other things. This watch winder also has a handy power winding function, with which you can provide your watches with the necessary energy in a short time.
With the two Benson watch winders that we have described for you, you never have to worry about your watches stop running. This prevents getting inaccuracies in the time display and you do not have to set your watches again and again. It also offers protection against unnecessary wear and tear.
We offer the entire collection of Benson watch winders in our webshop. You can order these from us in a simple and safe manner. If desired, we are happy to help you make the right choice for you and your watches! Do you have a question or do you need help choosing the right model? Call or email us and we will be happy to help you.